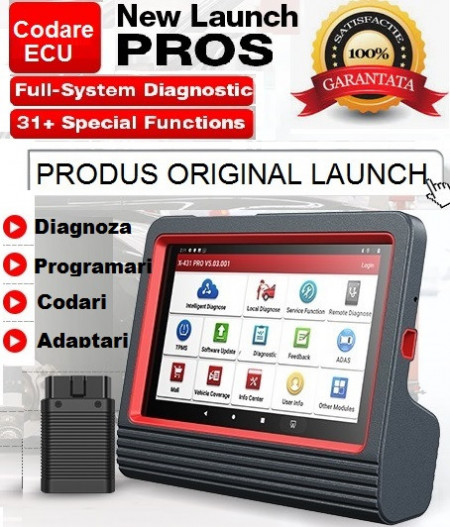 Tester Launch X431 PROS Turisme si Autoutilitare Codare ECU, Programari, Functii Online, model multimarca NOU!
Descriere
Noul tester Launch X431 PROS V4.0 produs 100% original este cel mai nou produs al fabricii Launch x431, detine software cu update Gratuit 24 luni reprezinta un performant aparat al companiei la un pret accesibil tuturor service-urilor in Europa, Sua, Asia dar si in Romania.  Este foarte important sa cumparati acest produs doar de la reprezentante autorizate deorece desi sunt doar cateva saptamani de la aparitia produsului exista deja pe piata din China clone identice insa de calitate inferioara si fara acces la update pe site-ul Launch.
Aparatul este original, achizitionat direct de la producator, garantia faptului ca produsul este original este faptul ca update-urile softului se fac direct de pe site-ul oficial Launch, astfel puteti verifica autenticitatea documentelor primite in colet. Veti primii user si parola de acces o data cu achizitia acestui produs. In pozele reale de mai jos veti regasii cum arata efectiv produsul si cum se foloseste. Activarea testerului pe Romania se va face in ziua livrarii catre dvs, la momentul achizitiei  il aveti total functional. Produsul se livreaza SIGILAT, activarile, alegerea limbii de functionare si acivarea update=ului se face de catre client. Produsul are in meniu limba romana insa majoritatea codurilor de eroare sunt in limba engleza, motiv pentru care exista optiunea de traducere in cadrul softului.

Cu un design complet nou ce imbina materialele de  calitate cu un nivel inalt de tehnologie in diagnoza auto, sistem ANDROID, acces rapid la Internet, Bluetooth si Wi-Fi, camera dubla fata /spate, X-431 PROS V4.0 este un tester profesional excelent pentru turismele din intreaga lume.
| | |
| --- | --- |
| | |
| | |
| | 3GB RAM & 32GB On-board Memory |
| | 8-inch LCD Touchscreen (1280*800) |
| | |
| | |
| | |
| | |
V4.0 NEW Global Version, NO IP Limited . 3GB ROM + 32GB RAM(Can be up to 128GB)
It is Global version, and NO IP limited. You can use it and update it everywhere around the world.
What make LAUNCH X431 PROS V4.0 is professional and so popular among shop owners and technicians?
✅【 2021 Model, Faster, More Popular ,Wider Regional vehicle coverage 】LAUNCH X431 PROS V4.0 scan tool adds loads of OE-Level features as ➤【AutoAuth for FCA SGW】which makes X431 PROS works with Chrysler,Dodge,Jeep,Alfa Romeo and Fiat after 2017.➤Setting & Changeover (adblue reset, unlock the engine after a collision, cancel ABS driving test, and more) for Benz ➤Modification for BMW ➤Offline Coding ➤Customization ➤Personalization, for worldwide vehicles, and keep growing.
✅【Bi-Directional + ECU Coding+Over 31 Reset Services+ Active Test + Adaptation+ Initialization + Matching 】: Besides actuate solenoids and actuators for active testing. Launch X431 PROS also support : Auto VIN Detect, ECU Coding, Adaptation , Matching ,Key programming,Gear/SAS/EPB/TPMS/DPF/IMMO/BMS/ETS/Oil/Brake/AFS/EGR/GEARBOX/SUNROOF/SUS Reset, ABS Bleed, Injector coding .Gives you the ability to use dealership level relearn procedures to complete repairs or maintenance.
✅【2021 Better Hardware 】:Launch X431 PROS V4.0 Updated and Optimized the hardware compared with 3.0.👍 Open Android 9.0 OS .👍 2.4GHz&5GHz Dual-Frequency Wi-Fi, the transmission rate is 4Xfaster than old version.👍7000mAh stronger battery capacity👍32+128gb(EXTENDABLE) storage,save more vehicle documents and customer data. . 👍 CPU Processor Updated from 1.4GHz to 2.0 GHz quard-core. greatly increased the speed of running multiple task .👍 8XFaster AUTO VIN Technology.Time IS Money.
✅【Almost OBDI&OBDII Connectors and Cables Included + Covering 99.99% Vehicles on the World 】: LAUNCH X431 PROS V4.0 scan tool works on ECU of vehicles covering Asian, European, American, Russia, Malaysia, India car brands up to 150 car brands, 10000 car models ..
✅【Real Active Test】Launch X431 PROS V4.0 car scanner diagnostic tool Features Full bi-directional control ability, to send commands to vehicle's systems/components, to verify system input/output without using the vehicle's controls, e.g. turn on the radiator fan, modulate the throttle, open/close windows, operate mirrors, Injector Buz Test,turn on interior & exterior lights, sound horn, test door lock actuators and such.
✅【Support Wifi Printer/ Videoscope/ TSGUN/ X431 PRO G Optional functions 】✔️Videoscop: Check unseen parts of engine, fuel tank system, etc.✔️X431 TSGUN: Activate all sensors,TPMS relearn,Program LAUNCH sensors✔️X431 PROG: IMMO functions for VAG Group Above 3.5✔️X431 PRINTER: Print out diagnostic data/ reports.
2021 New Added "OE-LEVEL"Function of LAUNCH X431 PROS V4.0
√ Guided Functions: Compatible with Volkswagen / Audi / Skoda / Seat etc.
√ Component Matching: Compatible with Volkswagen / Skoda / Seat / BMW / GM / Ford / Opel / Mazda / Fiat / Honda / Nissan / Hyundai / Kia / Subaru etc.
√ Online Coding: Compatible with Volkswagen / Audi / Benz / BMW / Seat / Porsche etc.
√ Online Account Login Service: Compatible with Volkswagen / Audi / Skoda / Seat etc.
√ Online Calibration: Compatible with Volkswagen / Audi / Skoda / Seat etc.
√ Online Parameterization: Compatible with Volkswagen / Audi / Skoda / Seat etc.
√ Anti-theft IMMO Serivce: Compatible with Volkswagen / Audi / Skoda / Seat etc.
√ Power Balance: Compatible with Chrysler / GM / Ford etc.
Programmable Module Installation: Compatible with Ford / Mazda etc.
√ Flash Hidden Functions: Compatible with BMW / Porsche / Toyota / Subaru etc.
√ Actuator Test : Injector Test ;Turn Off ACC Lane Keeping Assist
System (LKAS) ;Turn ON/OFF Front and Rear side ACM Solenoid , turning the fuel pump on and off, cycling the a/c ,clutch on and off, Left clutch electromagnetic coil test,Acceleration Device Test,Oil Pressure Control Test,DYNAMIC camera aiming,Vehicle level position calibration, Brake Vacuum Pump, Inlet and Outlet Valve tests, Open Brakes tests, Parking Brake Botors, Wheel Speed Sensor Supply, PARKING BRAKE tests (Vary by car, Hundreds of actuation test functions ) …
More functions and vehicle coverage is developing and waiting you to discover ........
ECU Coding
LAUNCH X431 PROS V4.0 offers the ECU Coding feature, which is not available in conventional code readers, to allow you:

-To perform the customer individual customization of the car such as setting alarms, doors locking, and outdoor lighting, etc., to improve vehicle performance, or stimulate high-end car functions.

-To alter the configuration when a component is replaced, so the new actuators can be recognized by related vehicle systems.

-To enable multiple car systems to recognize each other, and so the actuators can start to work.
Active Test
With this diagnostic tool's Active Test, you can output the command into the ECU in order to turn on/off actuators, to find faults in the subsystems of your car effortlessly, without using the vehicle's control:
[ Turn on the radiator fan | Modulate the throttle | Open/close windows | Operate mirrors | Turn on/off the lights | Turn on/off the sound horn | Test door lock … ]
Key Programming
Key Programming : >>>>Add, Delete & Reprogram Keys, >>>Rewrite smart keys, All smart keys lost, Replace smart key ECU, Replace KNOB IGNITION;>>>>Reset Key: Relearn a key. (Note:this key programming function is NOT universally compatible .please check compatibility with us if necessary. X431 PROS V4.0 supports PINCode reading for most cars before 2008 ,for vehicles after 2008,you need to have PINCode to do key programming)

This new Launch X431 PROS V4.0 scan tool is just the perfect All-in-One automotive tool that professional mechanics can't wait to have.
All Systems Diagnoses
This LAUNCH diagnostic scanner can establish a data link to all systems and subsystems of the vehicle being serviced to:
-Retrieve ECU information of the tested control units including unit type, version numbers, and other specifications, etc.
-Read & erase DTCs to locate problem areas and clear the codes.
-View Live Data of each parameter item.

The following is a list of modern vehicle systems that this scan tool can get access to:
-Engines / Auto Transmission / Airbags / Immobilizer / Key Coding / ABS / Cruise Control / Instruments / Self Leveling Suspension systems
-Seats / Doors / Gateway / Steering Angle / Air Suspension / Body Systems / Electronic Power Steering & Motor Assisted / Power Steering / Tyre Pressure / Rain Sensors / 4WD System
-Stabilizer / Intelligent Parking Assist/Door Motors / Audio Systems / Air Conditioning / Tiptronic / Anti Theft / Soft Top / Headlamp Leveling / Central Locking / Automatic Clutch / DPF Reset
-Electric Windows / Plip Programming / Heated Rear Window / Xenon Headlights / Wash Wipe / Fuel Burning Heater / Transfer Box / Seat Memory / Oil Life Service Reset / Sliding Doors / Electronic Throttle
-Navigation System / Rollover Sensor / Cruise Control / Multi Function Steering Wheel / Aux Heating / Electronic Parking Brake / Clutch Electronics ... and more.

This comprehensive scanning process is able to locate the faulty systems and retrieve the DTCs related easily. So you can work on all parts of the vehicle systems to enhance the performance, save energy, reduce emissions, and everything else.
Wide Vehicle Coverage across the Global
-American Cars

For Buick; For Cadillac; For Chevrolet; For Chrysler; For Dodge;For Ford; For GM; For Hummer; For Jeep; For Lincoln; (BRAZIL) For BX-Fiat; For BX-GM

-European Cars:

For Abarth; For Alfa Romeo; For Audi; For Bentley; For Benz; For BMW; For Bugatti; For Citroen; For Dacia; For EU-Ford; For Ferrari; For Fiat; For Jaguar; For Lamborghini; For Lancia; For LandRover; For Maserati; For Maybach; For Mini; For Opel; For Peugeot; For Porsche; For Renault; For Rolls-Royce; For Rover; For Saab; For Seat; For Skoda; For Smart; For Sprinter; For Vauxhall; For Volvo; For VW; For (UKRAINE) ZAZ; For (RUSSIA) GAZ; For IZH; For PAZ; For SEAZ; For UAZ; For VAZ

-Asian Cars

For (JAPAN) Acura;For Daihatsu; For Honda; For Infiniti;For Isuzu; For Jpisuzu; For Lexus; For Mazda; For Mitsubishi; For Nissan; For Nissan GTR; For Scion; For Subaru; For Subaru; For Suzuki; For Tlisuzu; For Toyota; For (KOREA) Daewoo; For Hyundai; For KIA; For Samsung; For Ssangyong; For (CHINA) Baic; For Beijing; For Changan; For Changan-Ford; For Changcheng; For Changhe; For Chsuzuki; For DF Peugeot; For DF Honda; For DF Nissan; For DF XK; For Flyer,For BYD; For Fukang; For Futian,For Foton; For Geely; For Gonow; For GZ Honda; For Hafei; For Haoqing; For HC BMW; For Hmada; For Huachen; For Isuzu,For JMC; For Jacty; For Jianghuai; For Jiao; For Jinlong;For Joylong;For Lifan; For Liuwel-TY; For Luxgen; For NJ Fiat; For Qirul-TY,For chery; For Qoros; For Saicmg; For Spark-TY; For TJ Toyota; For Trumpchi For GAC; For Weili; For Xiaokang For Dongfeng; For Xili,For Faw Tianjin; For Xinkai; For YQ Mazda; For Zhongshun; For Zhongtai,For Zotye; For Zhongxing; For (INDIA) Mahindra;For Maruti; For Tata; For (MALAYSIA) Perodua; For Proton; For (IRAN) MVM

-Australian Cars

For Au-Ford; For Holden

Vehicle coverage query website http://qcar.x431.com/qcar/#/pc/index
✔️NEW OPTIONAL FUNCTIONS:✔️ (need buy-extra )
1. Videoscope: Check unseen parts of engine, fuel tank system, etc.
2. X431 TSGUN: Activate all sensors,TPMS relearn,Program
3. LAUNCH sensors
4. X431 PROG: IMMO functions for VAG Group Above 3.5
5. X431 PRINTER: Print out diagnostic data/ reports
Remote Diagnosis
Users can carry out the remote diagnosis to ask for the remote control from other LAUNCH diagnostic tools (including but not limited to V+ 4.0), which are equipped with the remote diagnosis module as well, or from a PC client technician. This has realized the reality that a mechanic can diagnose an abnormal vehicle, which is even thousands of miles away.
Record & Playback
Another great feature about this automotive diagnostic scanner is that, it would allow you to view the Live Data Stream, and to record the data in Waveform. This would save you the hassle of reading through and digesting all the information which is being presented to you. You can even playback these data, for better analysis and rectification as well as the future use.
Share Report via Wi-Fi
Rather than taking the additional hassle, with this LAUNCH scanner, you would easily be able to share the diagnostics report to your clients or technicians via Wi-Fi. They would take a look at the full, clear and accurate diagnostic report, and then understand about what would need to be done. No more Googling unreliable fixes that would waste your energy.
Online Repair Resources
Over 1600 vehicle models' service & repair information, handbook, repair case and operation skills are included.
Health Report Generate and Share
With LAUNCH X431 V+, you can generate a full system Diagnostic Report by ONE-CLICK. The reports can be emailed to the office or directly to your customer. You can also print out the vehicle health report card.
Anti-theft Matching
This function can protect your car from being stolen by clearing the lost car key information and programming new key into the ECU database. Also known as keys programming.
Specifications
Operating System: Android 9.0
Memory :3GB
Storage Capacity:32GB (UP TO 128GB)
Screen :8 inch high-definition capacitive touch screen
with a resolution of 1280 x 800 pixels
Camera: Front-facing 2.0MP camera + Rear-facing 5.0MP camera
Wi-Fi: 802.11a/b/g/n/ac (2.4GHz / 5GHz)
Bluetooth: Supported
Working temperature 0℃ ~ 50℃
Storage temperature -20℃ ~ 70℃