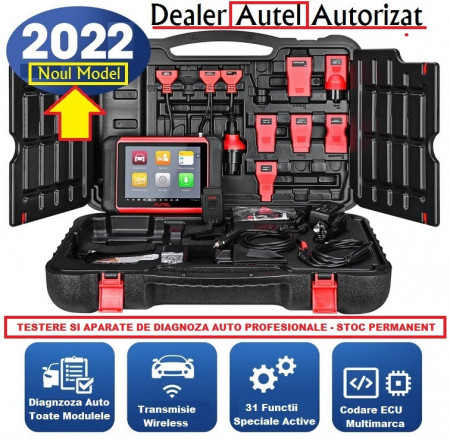 NOUL AUTEL MaxiSYS MK906BT Wireless Tester Auto Profesional Universal Produs Original 100%, Dealer Autorizat EU
Descriere
MaxiCOM MK906BT este cel mai nou tester profesional de diagnoza auto din linia de produse MaxiCOM, dispozitive avansate de diagnosticare fără fir produse de compania de renume mondial AUTEL, model update la versiunea Maxicom MS906BT. In pozele prezentate am atasat si o comparatie intre MS906BT si noul MK906BT.
Dispozitivul se bazează pe sistemul de operare Android prezentat cu cea mai bună acoperire posibilă a diagnosticării la nivel OE și a capacității de codare ECU.
Utilizând puternicul procesor Exynos 5260 cu 6 nuclee (1,3 GHz quad-core ARM Cortex-A7 + 1,7 GHz dual-core ARM Cortex-A15), un ecran tactil HD capacitiv de 8 "și comunicații wireless la distanță, MaxiCOM MK906BT eficient
oferă diagnosticarea și analiza cuprinzătoare a vehiculului.
In Romania noi oferim in calitate de importatori standard limba Engleza insa aparatul este multilanguage, la cerere fiind disponibile limbile: engleză, chineză simplificată, chineză tradițională, spaniolă, franceză, germană, poloneză, italiană, japoneză, coreeană, olandeză, portugheză, suedeză, rusă
■ Bullet Points
【OE-Level Full-System Diagnostic】: MK906BT is an affordable tool to access all vehicle systems like engine and transmission, performs OE-level diagnostics such as read/erase DTCs, view data stream, active test, ECU Replacement, Zero Point Calibration (Toyota), Signal Check (Toyota), Initialization (ECU), and Guided Functions (VAG), quickly presents accurate diagnosis results, and significantly improves the convenience of diagnosis. 【31+ Maintenance Functions】: As the latest version of 2021, the diagnostic tool is competent to perform Oil Reset, Injector Coding, Throttle Matching, ABS Bleeding, BMS Service, SAS Reset, IMMO, Key Fob Coding, and more. MK906BT diagnostic scanner is an all-around maintenance scanner for effectiveness and efficiency. 【ECU Coding & Active Test】: Enhanced online ECU coding function works for 98% automobiles (including BMW, Volkswagen, Porsche, etc.), allows for enhancing ECU function to fix problems or unlocking hidden functions, such as Auto Lock and Mirror Folding. The active test covers the full systems of most vehicles, commanding the actuator to perform specific tests to pinpoint faults, such as rolling up / down a window, turning the fuel pump on and off, cycling the a/c clutch on and off, and helping with an emissions leak test. 【Wide Coverage & Easy to Use】: The automotive scan tool serves 80 + car manufacturers and 140+ vehicle models worldwide, supporting Data Manager to uninstall manufacturer software, delete pictures and edit diagnostic records, helping you more quickly find repair records to facilitate the follow-up. Ergonomic design, as well as an 8.0-inch capacitive touchscreen with 1024*768 resolution, gives you a good user experience. 【Updated Version of MS906/MK908】: MK906BT contains most of the functions of MS906/MK908 with performance improvements over MS906BT: faster wireless pairing, longer Bluetooth range (164ft/50m), and fastest software update frequency among its peers on the market.
NEW ARRIVAL AUTEL MaxiCOM MK906BT
■ Enhanced ECU Coding
With the advanced ECU coding function, the MK906BT professional diagnostic scanner empowers you to establish full data links with electronic control units via VCI for vehicle diagnosis, repairs, or coding. It also features online coding and personalization for high-end vehicles: 1.Support online coding for BMW; 2.Support online coding, guided function, modifications for Volkswagen; 3.Support ECU coding, ECU online coding, and guided function of providing repair tips after 4.reading DTCs for Porsche; 5.Support ECU online coding for Renault; 6.Support customized configuration for Toyota, Nissan, Peugeot, and more.
■ Active Test
By passing the electronic control module and communicating directly with the control unit is an efficient diagnosis method. The MK906BT car scanner can perform active tests to check the vehicle's running states by receiving information from ECUs or by monitoring actuators (e.g., switching solenoids, relays, or on-off between two operations) to control the system or parts (e.g., ABS, windows, doors, roof).
■ OE-Level Full-System Diagnosis
By penetrating all available ECUs, including but not limited to PCM, ECM, EPS, PDM, TPM, BCM, ABS, SCCM, etc., MK906BT retrieves information and performs OE-level diagnostics on all available vehicle systems, like read and clear codes, view data stream and vehicle information, ECU Replacement, Zero Point Calibration (Toyota), Signal Check (Toyota), Initialization (ECU), and Guided Function (VAG). It not only enables you to troubleshoot promptly but also makes you customize the configuration.
■ 31+ special functions
The MK906BT performs all-around maintenance solutions to extend your vehicle's life. Oil Reset, Injector Coding, Throttle Adaptation, BMS Service, SAS Calibration Reset, EPB Reset, ABS Bleeding, DPF Regeneration, Suspension Matching, Transmission Adaptation, Key Fob Coding (Add a new key after car keys loss), etc. Car maintenance can be done at your fingertips. *Note: The TPMS function cannot program sensors.
■ Auto VIN
Just one click can facilitate the vehicle diagnostic process. MK906BT scanner tool incorporates the latest Auto VIN technology that allows technicians or repairmen to easily identify vehicle information such as manufacturer, model, year and place of manufacture, etc.
■ Additional Functions
The MK906BT automotive scan tool has additional features that take smart diagnostics to a new level: remote control support at any time, from anywhere, real-time push notifications and software updates over the Internet, Shop Manager to record customer and vehicle information and for easy access and management, Data Manager to uninstall manufacturer software, delete pictures and edit diagnostic records, MaxiFix (an online troubleshooter database) to access a vast database of repair and diagnostic tips along with proven filed fixes.
■ Technology Optimum Combination
We have always been seeking a comprehensive way of vehicle diagnosis. MK906BT can record digital images and videos, so we subtly combine different diagnostic tools to make it possible. It works with oscilloscopes to provide you with an insight into the inner workings of a vehicle's electronic circuits, with an inspection camera to access the desired point of difficult-to-reach car interiors, with TPMS tool to program AUTEL MX-sensors or OE sensors.
■ Wide Coverage
No need to worry about compatibility issues. The device currently supports 80+ car manufacturers and 140+ car brands worldwide. Also, you will be able to get more new car models through subsequent high-frequency software updates. It is compatible with: For Chrysler, Dodge, For Ford, For GM, For Jeep, For Abarth, For Alfa, For Citroen, For Fiat, For Lancia, For Opel, For Peugeot, For Porsche, For Renault, For Saab, For Vauxhall, For Volvo, For Aston Martin, For Audi, Bentley, For Benz, For Sprinter, For BMW, For Bugatti, For Ferrari, For Jaguar, For Lamborghini, For Land Rover, For Maserati, For Maybach, For Mini, For Rolls-Royce, For Seat, For Skoda, For Smart, For VW, For VW CV, For Dacia, For Ford EU, For LT3, For Acura, For Daewoo, For Daihatsu, For Honda, For Hyundai, For Hyundai CV, For Infiniti, For Kia, For Lexus, For Maruti Suzuki, For Mazda, For Mitsubishi, For Nissan, For Nissan GTR, For Samsung, For Scion, For Ssang Yong, For Subaru, For Suzuki, For Toyota, For Isuzu, For Mahindra, For Perodua, For Proton, For TATA, For HINO, For UD,For Fuso.
■ Features
1. Extraordinarily powerful Samsung Exynos Hexa-core processor 2. 8.0" 1024x768 LED-backlit glossy Multi-Touch capacitive display with IPS technology for ultra-mobility 3. Internal reliable 32GB SSD for better performance 4. Built-in 8-megapixel rear camera with autofocus and flashlight 5. 802.11b/g/n Wi-Fi to access your favorite web resources 6. Unique ergonomic design with rubberized outer protection and a rugged internal housing 7. Built-in rechargeable lithium-polymer battery for up to 14 hours of continuous operation 8. USB, audio and auxiliary ports make it easy to connect accessories 9. Open source Android Operating System for fast boot-up and multitasking 10. Easy and intuitive navigation makes finding what you need simple and fast 11. The most extensive complete system coverage for more than 80 US, Asian and European makes and models 12. Exceptional OE-Level functionality from comprehensive OBDII diagnostics & services to advanced ECU coding 13. Complete capabilities for codes, live data, active test, ECU information, adaptation, matching, coding etc. 14. Smart AutoVIN technology for identifying vehicle easily 15. Automatic system and software updates with real-time push message notifications via internet 16. Instant remote control tech support anytime, anywhere 17. Cloud-based MaxiFix online community provides a vast database of diagnostic and repair tips and proven filed fixes 18. Interactive Data Logging sessions enable direct contact with Autel Technical Support for first-hand troubleshooting of diagnostic bugs and errors 19. One-stop multitasking designed for ideal management of workshop operations to keep all data files, customer info, and vehicle records well organized 20. Enhanced wireless BT connectivity between the display tablet and VCI device allows greater mobility and ease at work 21. Convenient data management system for managing internal program applications and reviewing data
■ Specifications
Operating System Android™ 4.4.2, KitKat Processor Samsung Exynos T5260 6-Core Processor (1.3 GHz quad-core ARM Cortex-A7 + 1.7 GHz dual-core ARM Cortex-A15) Memory 2 GB RAM & 32 GB ROM Display 8.0" LED capacitive touch screen with 1024x768P resolution Connectivity Wi-Fi (802.11 b/g/n) USB: 2.0, Mini USB 2.0 Wireless BT V2.1+EDR Class1, HDMI 1.4a SD Card (support up to 32 GB) Camera (rear) Rear-facing, 8.0 Megapixel AF with Flashlight Sensors Gravity Accelerometer, Ambient Light Sensor (ALS) Audio Input/Output Microphone, Single Speaker 3-Band 3.5 mm stereo/standard headset jack Power and Battery 10,000 mAh 3.7 V lithium-polymer battery Charging via 12 V AC/DC power supply Input Voltage 12 V (9-35 V) Power Consumption 5 W Dimensions (W x H x D) 270.8 mm (10.0") x 176.0 mm (6.9") x 36.0 mm (1.4") Weight NW: 1.05 kg (2.3lb.)
■Package List
AC/DC Adapter (12V) Adapter for Chrysler-16 (America Only) Adapter for GM/Daewoo-12 Adapter for Benz-38 Adapter for Mitsubishi/Hyundai-12+16 Adapter for Honda-3 Adapter for BMW-20 Adapter for Kia-20 Adapter for Nissan-14 Adapter for VW/AUDI-2+2 Cigarette Lighter MaxiVCI V100 Lighter Fuse Soft Cloth Mini USB Cable User Manual Packing List Carrying Case Quick Reference Guide