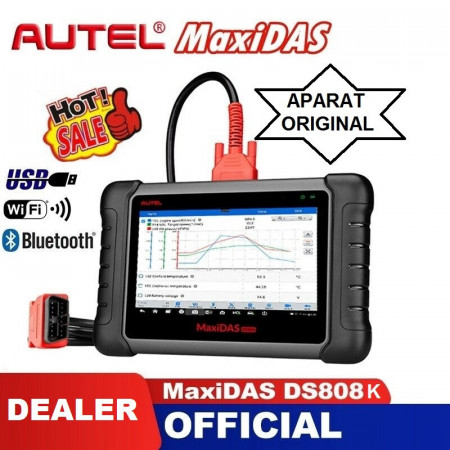 Tester auto Profesional Autel Maxidas DS808 Full KIT => Update Online, Produs Original
Descriere
Este un tester universal multimarca ultraperformant update la Autel DS808 / DS708, produs original PROFESIONAL de diagnosticare autoturisme, este usor de utilizat, ofera rapid, stabil si precis informatii cuprinzatoare utilizand o platforma tehnica de mare performanta fara sa mai aveti nevoie de un laptop. Are 12 luni garantie internationala la fel cum este notificat pe site-ul producatorului iar in colet veti primi individual user-ul si parola de acces pentru inregistrare on-line. Up-date gratuit 12 luni, PROMOTIONAL 24 LUNI (Oferta limitata pentru EUROPA). Lista masini acoperite, verificati lista de la la acest link: https://www.autel.com/vehicle-coverage/coverage2.

AUTEL MaxiDAS DS808K Full Set VS MaxiDAS DS808 difference:

1.DS808K is full set, MaxiDAS DS808 is standard set . Please confirm by checking their packge list.

2.DS808K can support OBD-I OBD-II protocols vehicle before 1998year,DS808 only support OBD-II cars
MaxiDAS DS808K (With Conkit) Features:

1. Extensive vehicle coverage for more than 80 brands USA, Asian and European car makes.

2. Exceptional OE-Level system coverage for all electronic systems

3. Complete capabilities for codes, live data, active test, ECU information, adaptation, matching, etc.

4. Smart Auto VIN technology for identifying vehicles easily

5. Automatic system and software updates with real-time push message notifications via Wi-Fi

6. Instant remote control tech support anytime, Cloud-based MaxiFix online community provides a vast database of diagnostic and repair tips and proven filed fixes

7. Interactive Data Logging sessions enable direct contact with Autel Technical Support for first-hand troubleshooting of diagnostic bugs and errors.

8. One-stop multitasking designed for ideal management of workshop operations to keep all data files, customer info, and vehicle records well organized.

9. Convenient data management system for managing internal program applications and reviewing data

10. featured with an extensive coverage of OE-level diagnostics . Installed with a fast quad-core processor, DS808K offers maximum convenience and efficiency for your diagnosis and analysis . It can support Injector & Key Coding if you have original programmer software.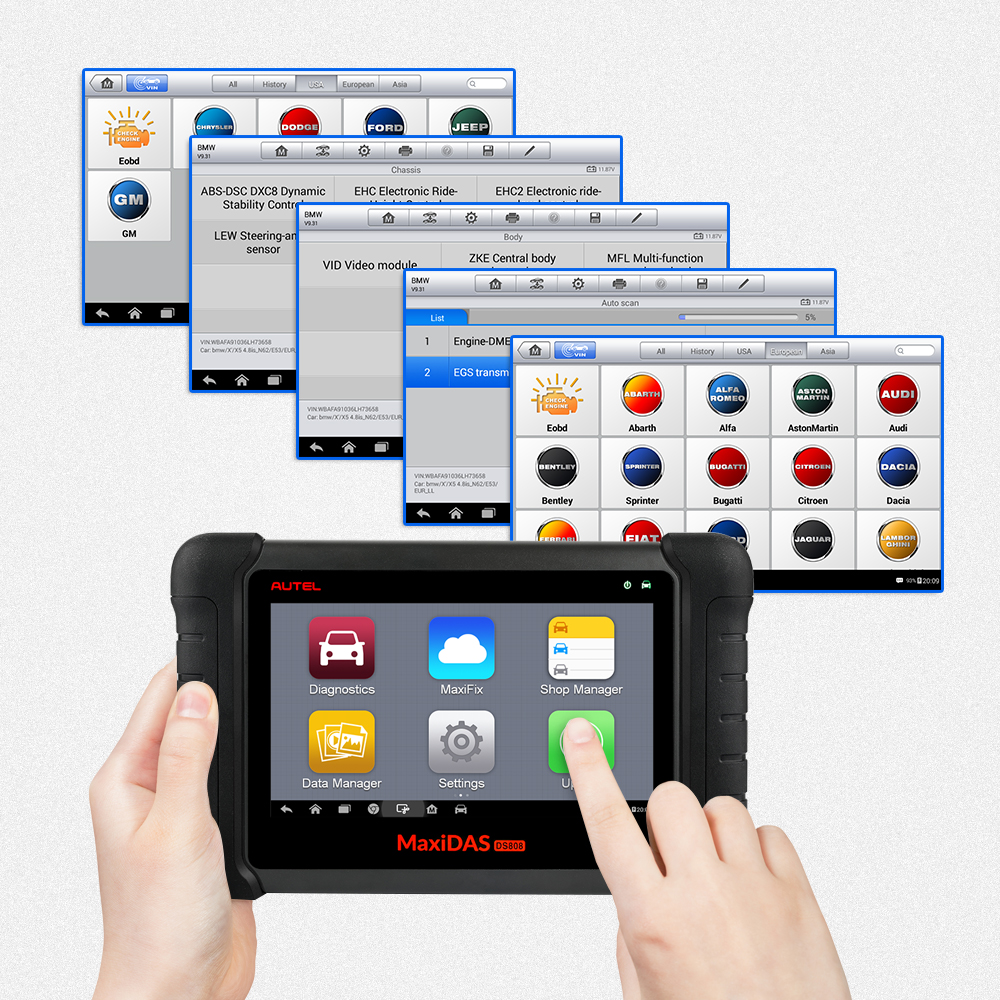 Note: There are two options available when accessing the Diagnosis section:

1. Auto Scan – starts auto scanning for all the available systems on the vehicle.

2. Control Units – displays a selection menu of all available control units of the test vehicle.

After a section is selected and the tablet establishes communication with the vehicle, the corresponding function menu or selection menu displays.

1.Diagnostic functions:
Full system diagnositc functions, Read/erase codes , Live data , ECU informaiton , Active test , freeze frame data , I/M reainess status , Vehicle information, O2 monitor test , on-board monitor test , component test , modules present ,DTCs help.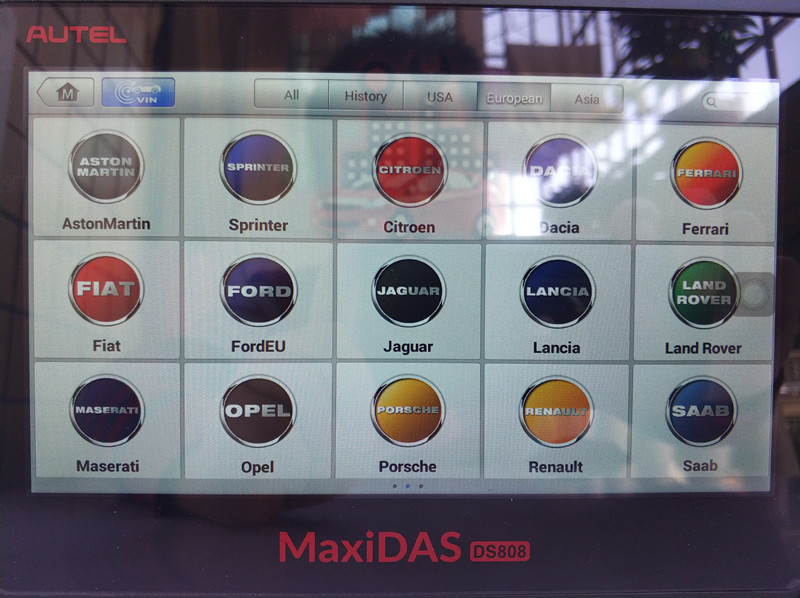 Reset and install service intervals

Reset the oil change calculator in the engine and automatic transmission

Replacement of brake pads on vehicles with an electric parking brake

Adaptation of the sensor to the angular position of the steering wheel

Regeneration of Diesel particulate filter

Bleeding brake system with ABS, etc.

Immobilizer functions

Battery Registration and reset
DS808K Supported Automotive Protocols:
OBD-I, OBD-II, ISO9141-2, ISO14230-2,ISO15765, K/L-Line, Flashing Code, SAE-J1850 VPW, SAE-J1850 PWM, ISO11898(Highspeed, Middlespeed, Lowspeed and Singlewire CAN, fault-tolerant CAN), SAE J2610,ForGM UART,UART Echo Byte Protocol, ForHonda Diag-H Protocol, TP2.0, TP1.6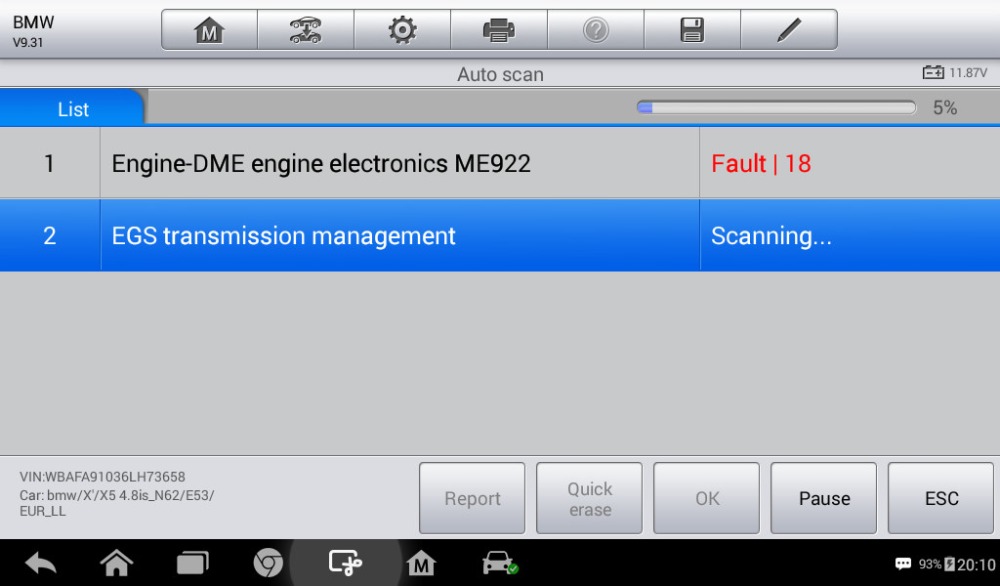 How to update Autel DS808K (With Conkit) software:
1. Make sure the Display Tablet is connected to a power source with stable access to the internet.
2. Tap the Update application button from the MaxiDAS Job Menu;
or tap the update notification message when received one;
or tap the Update icon on Vehicle Menu in Diagnostics application.
The Update application screen displays.
3. Check all available updates:
If you decide to update all the items, tap the Update All button.
If you only want to update one or some of the item(s), tap the Update button on the right column of the specific item(s).
4. Tap the Pause button to suspend the updating process. When you tap Continue to renew the update, the updating process will resume
from the break point.
5. When the updating process is completed, the firmware will be installed automatically. The previous version will be replaced
Specifications: 
    Operating System:Android™ 4.4.4

    Net Weight:788 g (2.42 lb.)

    Processor:Cortex-A9 processor (1.5 GHz)

    Memory :32GB

    Display:7-inch LCD capacitive touchscreen with 1024x600 resolution

    Connectivity:• Mini USB 2.0 • USB 2.0 • Wi-Fi • Micro SD card (supports up to 32GB)

    Sensors:Ambient light sensor for brightness auto changing

    Audio Input/Output:• Input: N/A • Output: buzzer

    Power and Battery:• 3.7 V/3200 mAh lithium-polymer battery • Charges via 5 VDC power supply

    Tested Battery Life:Around 4.5 hours of continuous use

    Battery Charging Input:5 V/1.5 A

    Power Consumption:500 mA (LCD on with default brightness, Wi-Fi on)  3.7 V

    Operating Temp:-10 to 60°C(14 to 140°F)

    Storage Temp:-20 to 70°C (-4 to 158°F)

    Operating Humidity:5% - 95% non-condensing

    Dimensions (W x H x D):237.8 mm (9.4") x 148.6 mm (5.9") x 35.5 mm (1.4"
Packing list:
1pc x USB External
1pc x Power Adapter
1pc x USB External Power AdapterUser
1pc x ManualQuick reference guide
1pc x Main cableCarry case
1pc x Mini USB Cable
1pc x User Manual
1pc x Quick Guide
1pc x For Benz-14
1pc x For Chrysler-16
1pc x For BMW-20
1pc x For Kia-20
1pc x For Nissan-14
1pc x For GM/Daewoo-12
1pc x For Honda-3
1pc x For VW/AUDI-2+2
1pc x For Mitsubishi/Hyundai-12+16
1pc x For Benz-38
1pc x For PSA-2
1pc x For Fiat-3