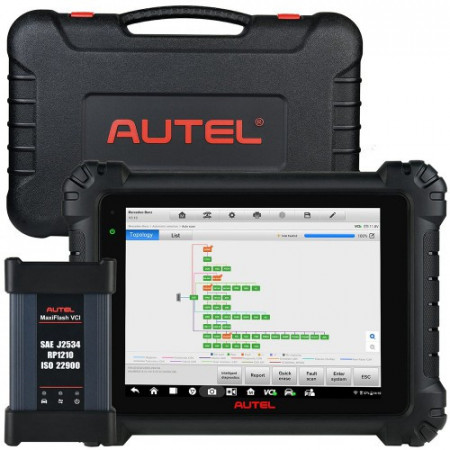 Autel Maxisys Ultra Lite Instrument de diagnosticare AUTO PROFESIONAL complet cu versiunea actualizată MaxiFlash VCI MS909 / Elite II
Descriere
Noul model profesional Autel Maxisys Ultra Lite d
ispune de o tabletă performanta cu ecran tactil de 12,9 inchi cu sistem de operare Android 7.0 alimentat de un procesor Octa-core (2,3 GHz Quad + 1,7 GHz Quad), memorie încorporată de 256 GB, toate alimentând noua navigare cu mai multe aplicații cu ecran divizat pentru a oferi
ghidare automatizata și testare a componentelor pentru a confirma reparațiile. Aparatul este in stoc Germania permanent, in Romania se aduce in 2-3 zile lucratoare pe baza contractului nostru cu DHL la data confirmarii ferme a comenzii si platii unui

avans de 30%

. Suntem partener autorizat Autel, produsul se livreaza sigilat, original 100%, activarea se face direct de catre client la data primirii aparatului pe site-ul oficial Autel.

Autel Maxisys Ultra Lite Highlights:



1. One Year Free Update Online 
2. Global Version, No Blocking Problem 
3. Multi-Language Supported:
 English, German, Spanish, French, Polish, Italian, Japanese, Korean, Dutch, Portuguese, Swedish, Russian
4. Extensive Vehicle Coverage: OE level coverage for more than 80 US Domestic, Asian and European vehicles, including supercar
5. Intelligent Diagnostics Step by Step: Intelligent Diagnostics adopts scientific data cloud computing technology to match the specific fault code with the exact vehicle model. It will improve repair vehicles efficiency of pro technicians and mechanics, saving time and win more business.

What Are The Difference Between Maxisys Ultra and Maxisys Ultra Lite:

1. The Similarity

1). Both Maxisys Ultra and Maxisys Ultra Lite are Global Version, No Blocking Probelm
2). Both of Them Comes With 1 Year Free Update Online. After 1 Year, Update Cost about 1099USD/ Year
3). Support Fully Same Functions including J2534 ECU Online Programming,Special Service Functions, Active Test, Guided Funtions, etc. 

2. The Differences:

1). With Different VCI:
     * Maxisys Ultra Comes with MaxiFlash VCMI 5 in 1 Which can Support VCI, OSCILLOSCOPE, MULTIMETER, WAVEFORM GENERATOR, CAN BUS CHECK
     * Maxisys Ultra Lite Comes with MaxiFlash VCI, So It Can Not Support OSCILLOSCOPE, MULTIMETER, WAVEFORM GENERATOR, CAN BUS CHECK
2). With Different Language Option:
     * Maxisys Ultra Support English Only. Can Not Change to Other Languages
     * Maxisys Ultra Lite Support Multi-Language Which Covers English, German, Spanish, French, Polish, Italian, Japanese, Korean, Dutch, Portuguese, Swedish, Russian
3). Maxisys Ultra Lite Can Not Support Maxi Data APP But Maxisys Ultra Can 




Most Advanced Repair Guidance and Assist Functions Supported By Autel MS Ultra

1. Module Topology: It can display all your car modules and connect each one with line. From it, you can know which module has problems and you can press that module, the device will display its DTCs, and enter it.
2. Repair Assistant: Repair Assist Software displays a list of recommended tests, the completion status and priority for undertaking. The higher the priority, the earlier the components should be tested.
3. Guided Functions: An integrated troubleshooting process organised into the operation steps, that guide the user to solve the maintenance problems.
4. Accurate recommendation: Automatically match the circuit diagram and pin position required for the fault.
5. Relevant Cases: The software automatically recommends repair processes that may be relevant to the vehicle and fault. These repair cases provide the technician with great insight when diagnosing and repairing.
6. TSB: See official announcements issued by vehicle manufacturers regarding common problems including vehicle modules, DTCs, repair methods, program updates and recall strategies. Currently available on Ford, GM, FCA, Toyota, Lexus, VW, Nissan, Honda, BMW, Mercedes, Audi, Hyundai, Kia.
7. DTC Analysis: The DTC Analysis describes possible causes and solutions for vehicle faults. Currently available on GM, Ford, Toyota, Lexus, Nissan, Honda, VW, Audi, BMW, FCA, Mercedes.

Maxisys Ultra Lite Features:

1. Autel updates provide latest OE level coverage for more than 80 US Domestic, Asian and European vehicles, including supercar
2. Exceptional OE-Level functionality from comprehensive OBDII diagnostics & services to advanced ECU coding and programming
3. Automatic system and software updates with real-time push message notifications via internet
4. Interactive Data Logging sessions enable direct contact with Autel Support for first-hand troubleshooting of diagnostic bugs and errors
5. One-stop multitasking designed for ideal management of workshop operations to keep all data files, customer info, and vehicle records well organized
6. Cloud-based Data Manager saves customer and vehicle records, scanner data and technician notes
7. OE-Level Topology Module Tree, helping you veiwing the vehicle's crux much more intuitively;
8. Exceptional OE-Level Functionality from Comprehensive OBDII Diagnostics & Services to Advanced ECU Coding and Programming




Advanced MaxiFlash VCI

Autel Maxisys Ultra Lite diagnostic computer is able to perform OE level all systems diagnostics on over 80 makes and models to retrieve vehicle ECU information, read and clear codes, view live data stream of multiple sensors.

1) Supported to OE-Diagnostic Protocols: D-PDU/ J2534/ RP1210 OE-diagnostic protocols.
2) Supported to CAN FD/ DoIP Protocols: Transmission speed up to 4.05Mbit, 14 times faster than CAN2.0A/B.
3) Supported to More Vehicle Models: The agreement currently applies to GM models in the second half of 2009, Volvo models after 2018, LandRover/ Jaguar models after 2017, BMW F chassis G chassis.
NOTE: The CAN FD/DoIP protocols are not universal to all the vehicles. The CAN FD protocol is mostly applicable for GM produced in the second half of 2019, and the DOIP protocol mainly supports Volvo after 2018, L-and Rover/Jaguar after 2017, F chassis and G chassis BMW.




Pre-Scan and Post-Scan Function, a Truly Practical Function for Car Workshops:

Step 1. Auto SCAN the Vehicle: the Auto VID function can automatically identify the vehicle and all equipped systems, codes and code details will be listed.
Step 2. Print Pre-SCAN Report with customized with shop and vehicle information.
Step 3. Repair Vehicle: creates efficient repair plan from the start.
Step 4. Auto SCAN Repaired Vehicle: ensures no new faults were created during repair and no DTCs are present at completion.
Step 5. Print Post-SCAN Report: proves all DTCs on Pre-SCAN report are fixed.

Functions:

1. Intelligent Full System Diagnostics, Active Test

* Intelligent All Systems Diagnostics:
Intelligent Diagnostics is a specific fault code analysis function, with which you can access the most comprehensive and latest code-specific data, DTC analysis, repair assist, repair tips, and relevant repair cases. It has been drawn from real world shop repair orders and records and with input from experienced industry professionals. It can scan all system diagnosis on all available systems including but not limited to Engine, TPMS, Transmission, EPB, CGM, SRS, A/C, BMS and so on.

* Bi-Directional Active Test:
Autel Maxisys Ultra Lite supports bi-directional or active tests on systems and sub-systems, components and so on. For example, it can do bi-directional on ABS to test its sensitivity and function, on Motor Pump to test the integrity of the system, on fuel pumps, wipers, headlamps, windows, doors, sunroof and so on to test its functionality.




2. Advanced ECU Programming ECU Coding

Autel Maxisys Ultra Lite comes with J2534 ECU programming device BMW Ethernet Cable (For F-Series Coding Programming), which is capable of replacing the existing software/firmware in the Electronic Control Units (ECU), programming new Benz/ BMW ECUs and fixing software-controlled drivability issues and emission issues, update the computer software on the vehicle to the latest version.
Note: ECU Programming only for BMW/ Mercedes Benz Vehicles




3. Revolutionary Topology Module Mapping

Autel OBD2 scanner MaxiSys M909 has Topology Module Mapping design to give you the distinctive diagnostic results:
1) Displays the entire system through the Topology Map to glance all the modules with faults, which is easy to locate faults and causes.
2) Color-coded topology displays all system status in one page
3) View structure of communication between modules
4) Makes Supported: BMW, Ford, Volkswagen, Audi, GM, Chrysler, Nissan, Honda, Toyota-Lexus, Jaguar L-and Rover, Mercedes-Benz, Hyundai, Kia, Volvo.
NOTE: Please be noted that Topology is not universal to all the above vehicle brand models, please send your VIN to us before you place order.




4. Special Service Functions:

Doing regular and routine maintenance on a modern car is impossible without a diagnostic system. Even the simplest procedures require the participation of an auto scanner. That's why Autel engineers have been working on them and making them as user-friendly as possible in the new Autel Maxisys Ultra Lite. Now you can easily do functions like:

Oil Reset: Reset the oil change calculator in the engine and automatic transmission
EPB: Replacement of brake pads on vehicles with an electric parking brake
SAS: Adaptation of the sensor to the angular position of the steering wheel
DPF: Regeneration of diesel particulate filter
Brake Bleed: ABS Brake Bleeding
TPMS: Battery registration and reset
Seat Calibration: Calibrate the memory in replaced or repaired seats
Airbag Reset: Resets the airbag data to clear the airbag collision fault indicator
A/F Reset: Set or learn Air/Fuel ratio parameters
Gearbox Reset: Help complete the gearbox self-learning to improve gear shifting quality
Suspension Reset: Adjust the vehicle body height sensor for level calibration
BMS: Battery registration and reset




Package List:

1set x Autel Maxisys Lite
---