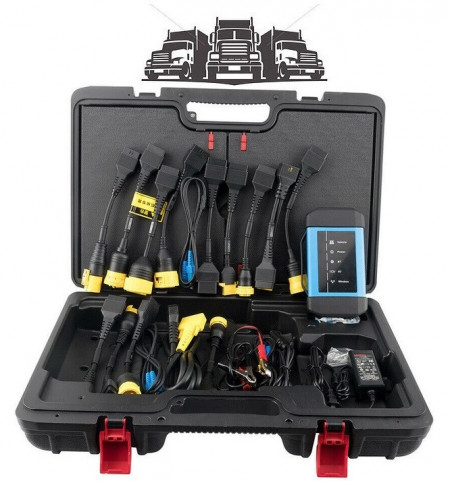 Tester Launch X431 HD Heavy Duty Tiruri, Camioane, Autobuze, model multimarca NOU
Descriere
Modelul nou de tester HD 3.0 Launch X431 V+ Pro4 este dedicat segmentului de CAMIOANE si TIRURI - produs 100% original este cel mai nou produs al fabricii Launch, este versiune NOUA (rama neagra) si are 12 luni update Gratuit, reprezinta acum cel mai dorit aparat in toate service-uri din prezent, atat in Europa, Sua si Asia. Este prezent in Europa prin distribuitorul oficial Launch. Este foarte important sa cumparati acest produs doar de la reprezentante autorizate deorece desi sunt doar cateva luni de la aparitia produsului exista deja pe piata din China clone identice insa de calitate inferioara si fara acces la update pe site-ul Launch.
Aparatul poate fi cumparat la alegere optional astfel:
KIT DIAGNOZA LAUNCH X431 HD + TABLETA ORIGINALA LAUNCH THOUGHBOOK NOUA SAU REFURBISHED de la 7000 lei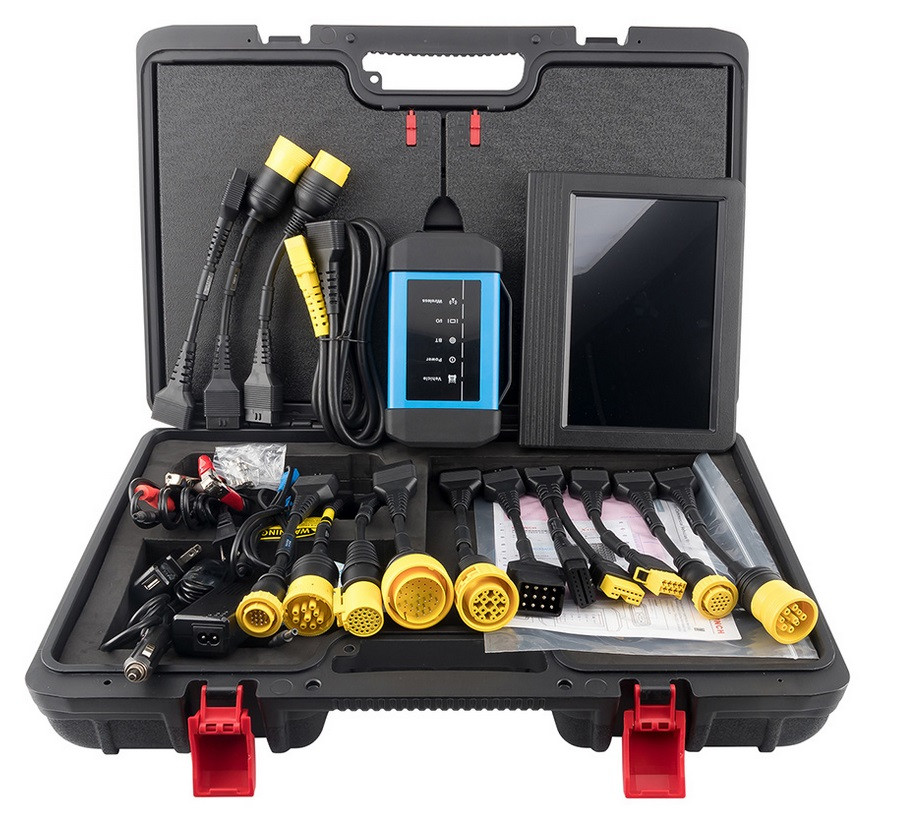 SAU
KIT DIAGNOZA LAUNCH X431 HD FARA TABLETA ORIGINALA LAUNCH (Folositi tableta dvs Android), pretul afisat in anunt.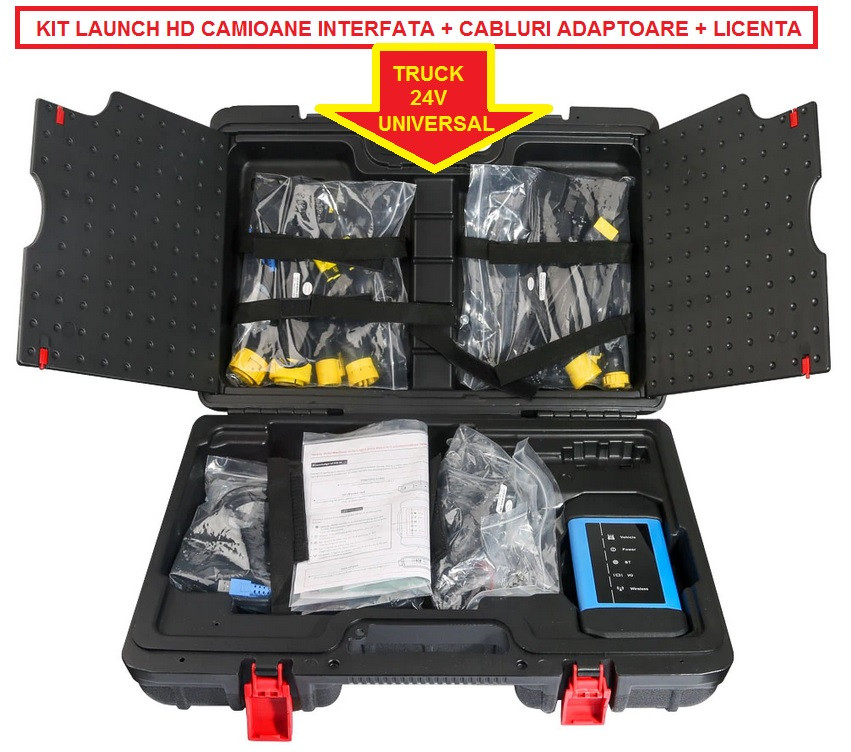 SAU
KIT DIAGNOZA LAUNCH X431 HD + TABLETA ANDROID HUAWEI 10 INCH, TOTUL INSTALAT la pretul de 6200 lei + TVA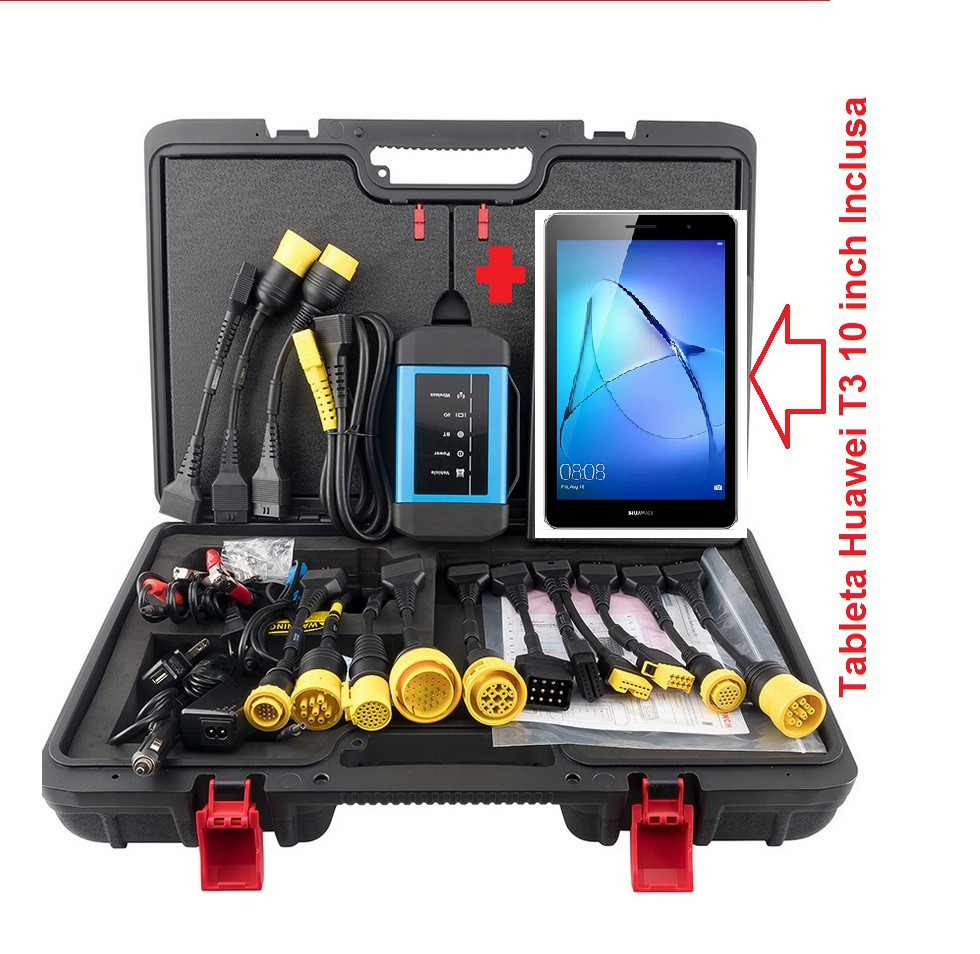 Aparatul este achizitionat direct de la producator, garantia faptului ca produsul este original este faptul ca update-urile softului se fac direct de pe site-ul oficial Launch, astfel puteti verifica autenticitatea documentelor primite in colet. Veti primii user si parola de acces o data cu achizitia acestui produs. In pozele reale de mai jos veti regasii cum arata plicul sigilat cu userul si parola de acces primite de la producator.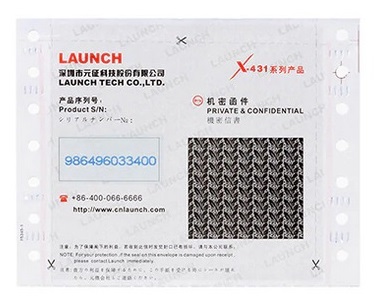 Tableta X-431 V + și X431 Modulul HD3.0 de camioane este un instrument de diagnosticare a defecțiunilor  de nouă generație dezvoltat de Launch Tech pe baza sistemului de operare Android. Comunică cu X-431 PRO3 / X-431PAD II throuth Bluetooth pentru a obține diagnosticul de eroare pentru diverse modele de mașini și sisteme complete.  
Attention : X431 V+ Tablet & X431 HD III ,  only support 24V Truck , does not support 12V car
Wireless Bluetooth Diagnosis
Host machine and diagnostic connector adopt Bluetooth connection, making diagnosis more convenient.
Support various car models
Supports over 68 car brands and 220 car models from America, Europe, Asia
Launch X431 HD3 Heavy Duty Adapter is a multifunctional module intended for the diagnosis of trucks and commercial vehicles using X431 V+ , X431 PRO3, X431 PAD II and X431 PAD III scanners. With this module you can retrofit an existing multi-brand scanner for passenger cars, thereby expanding its functionality. 
Launch X431 HD3 Ultimate Heavy Duty Truck Diagnostic Adapter



With this device you can test heavy duty truck 24V. Connections via USB and Bluetooth. The package also includes the necessary additional adapters.
Launch X431 HD3 Functions
Identification of control units
Adaptation of control units
Reset service intervals
Reading vehicle data streams
Display of current system parameters
Check actuators
Reading and erasing vehicle fault codes
Launch X431 HD3 Benefits
36 brands of foreign trucks with the possibility of expanding the supported brands
indicators showing the status of the connection in real time
IP65 protection
shockproof case.
Launch X431 HD3 Supported heavy duty vehicle list:
Europe:
MERCEDES BENZ
MAN
VOLVO
SCANIA
IVECO
DAF
RENAULT
U.S:
Freightliner
INTERNATIONAL
Kenworth
PETERBILT
STERLING
WESTERN STAR
MACK
DETROIT
CUMMINS
Asia:
HINO
FUSO
ISUZU
UD
HYUNDAI
X431 Heavy-duty III Truck:
34 car model software, support more than 60 car models. Moreover, the software is being continuously developed.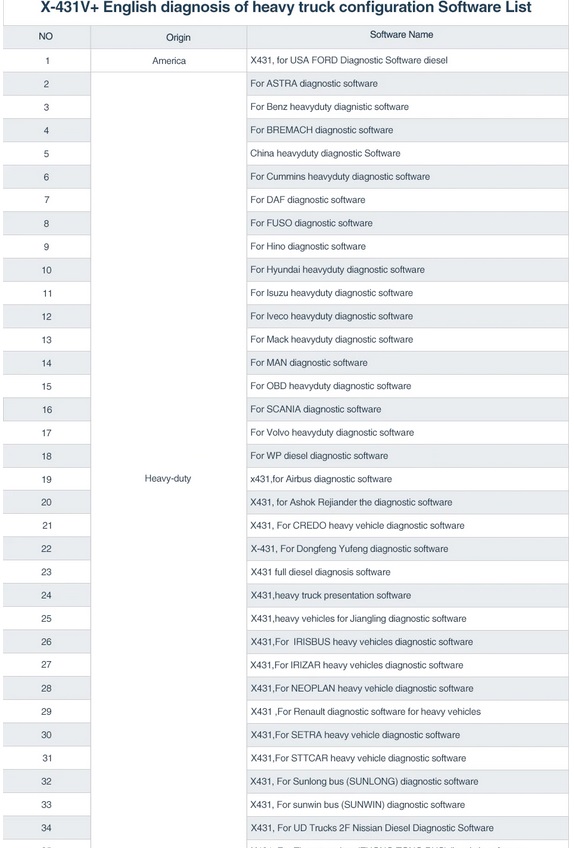 Industrial shockproof design
Industrial shockproof design is perfect for the working environment in repair shops.
Various configurations are available for selection 
Suppose you are going to purchase heavy-duty truck diagnostic tool, you can choose X-431 PRO3 or X-431 PAD II as host machine. If you have already bought X-431 PRO3 or X-431 PAD II diesel configuration, now you want to test truck, just buy a heavy-duty truck module.
Full comprehensive diagnostic software functions.
Wide diagnostic software coverage.
Software based on Android, matching with more diagnostic hosts.
Release new software version timely to let customers enjoy latest service.
Able to test truck with 12V or 24V battery diesel engine. When testing 24V truck, battery conversion is not required.
Diagnostic hardware is designed according to international standard, compatible with diagnostic interfaces of worldwide models.
  1).Can diagnose the electronic control system of prevailing vehicle models covering Asian, European, American and Chinese. Diagnosis functions include: Read DTCs, Clear DTCs, Read datastream, Special functions etc;
    2).Specially designed for Android platform with clear and user-friendly interface;
    3).Via Bluetooth, it is simple for DBScar diagnostic connector tocommunicate with X-431 V+;
    4).Equipped with an exclusive X-431 V+ protection sleeve to prevent it from being damaged;
    5).support system:Engine,A/T,ABS, SRS, electronic control system,body control system,vehicle theft  eterrent,instrument panel cluster,radio
2. Browser:     built-in Wi-Fi module makes surfing on the internet freely;
3. Email: allows you to send and receive email. External POP3 or IMAP email account for some common Web email service provider can be added;
4. Search: enables you to locate your target quickly and conveniently;
5. File Manager: with it, you can manage the files or downloaded files stored in SD card efficiently;
6. Settings: to configure your personalized X-431 V+ through it;
7. Other additional functions: alarm, calendar and calculator etc.
8. Applications: Other android based applications can be customized to install or uninstall.
9. Social Network Service: Built-in Social Network Service allows access to diagnostic community
10. One-click update online by Wi-Fi
11. Remote diagnosis & maintenance:work with golo(optional golo,Purchased separately)
12. Print Diagnostic Result:Optional (Wi-Fi),and you can order the LAUNCH X431 Mini WIFI Printer(Purchased separately)
13. Extended Trucks diagnostic functions:Optional LAUNCH X431 HD Truck Module,you can Purchased X431 HD separately and free update trucks diagnostic software to diagnostic trucks.(if you are order the x431 HD and work with X431 V+,your LAUNCH X431 V+ will be Expanded into a petrol cars and diesel trucks 2 in 1 diagnostic device.)
Operating system:  Android 7.1                                                                        
CPU:   Quad-core 1.4GHz processor
Battery:    7000mAh rechargeable polymer lithium battery                    
Storage capacity:  16GB (Can up to 128GB)                                                                        
LCD resolution:      1280*800                                                                           
Touch screen:  Capacitive touch screen
Cameras:   5.0 mega pixels rear                     
Wi-Fi:    Support 802.11a/b/g/h
Working temperature:   0C - 45C
Storage temperature:  -20C - 70C                                                                         
A full set of heavy-duty bluetooth modules