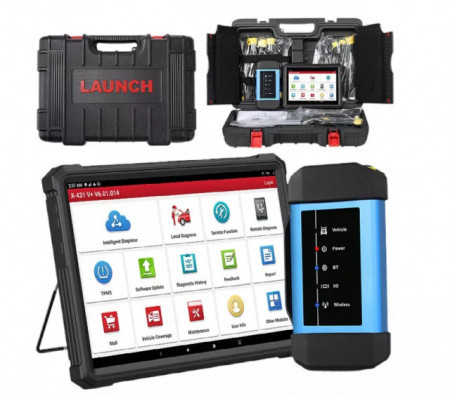 Tester Auto Original Camioane Launch X431 HDIII Tableta V+ PRO 24 volti model NOU, Multimarca Utilaje,
Descriere
Kit-ul profesional de generatia 2 pentru camioane, utilaje, industriale Launch X431 V+ HD3 PRO 24V este o versiune modificată a scanerului multibrand Launch X-431 V+ care în noua sa ediție a primit o tabletă mai puternică și o funcție de diagnosticare pentru vehiculele grele. Dispozitivul include toate avantajele seriei Pro și este prezentat cu algoritmi de diagnosticare avansați care vă permit să testați rapid și profund mașina. Setul complet X431V+ HDIII PRO - este destinat SPECIAL diagnosticării camioanelor, Pachetul HD este un set de Launch x431 V+ plus modulul de diagnosticare al camioanelor Launch HD Box 3.0, se dovedește mai ieftin decât cumpărând totul separat, ADICA interfata separata + tableta sepatara.
X-431 V+ și HD3 PRO in pachetul complet pe care noi vi-l oferim, meniu in limba Romana, face diagnoza completa la toate camioanele diesel prin comunicarea wireless bluetooth fără fir între conectorul de legătură de date (DLC) și tableta / terminalul mobil inteligent asociat.

Puteti verifica in link-ul urmator care este lista de masini, utilaje pe care le acopera testerele profesionale produse de compania Launch X431: LISTA MASINI ACOPERITE
| | |
| --- | --- |
| | |
| | |
| | |
| | |
| | |
| | |
| | |
| | |
| | |
| | Tablet265mm*214.5mm*50.5mm +Heavy Duty Module204mm*110mm*45mm |
| | English, Spanish, French, German, Russian, Romanian |

Main Features:

1. Wireless Diagnosis

Host machine and diagnostic connector adopt wireless connection, making diagnosis more convenient.

2. Support various truck models:

34 truck brands software, support more than 60 truck models. Moreover, the software is being continuously developed.

3. Industrial shockproof design

Industrial shockproof design is perfect for the working environment in repair shops.

4. Various configurations are available for selection

Suppose you are going to purchase heavy-duty truck diagnostic tool, you must choose X-431 V+, X-431 PRO3 or X-431 PAD II as host machine. If you have already bought X-431 V+, X-431 PRO3 or X-431 PAD II gasoline configuration, now you want to test truck, just buy a heavy-duty truck module.

5. Full comprehensive diagnostic software functions.

6.Wide diagnostic software coverage. Accurate test data.
Software based on Android, matching with more diagnostic hosts


Advantages:

Intelligent diagnosis:
In the state of networking, it can automatically identify vehicle information and complete rapid diagnosis. 
It can also check the history record of vehicle maintenance online, which is the first in the industry; 
Remote diagnosis: The self-developed and patented IM remote diagnosis technology can be quickly accessed remotely through terminals such as mobile phones, tablets, computers, etc., and the network broadband and system resources occupation rate is low; 
Diagnostic feedback: In the process of using the vehicle and function abnormalities under special circumstances, you can feedback the problem to Launch Company, and there will be special technicians to track and handle it; 
Maintenance information: More than 1600 models, more than 10,000 GB of maintenance database, including online video, circuit diagram, maintenance manual, maintenance cases, operation skills, etc., online inquiry at any time, can also provide detailed fault code help, improve diagnostic efficiency; 
Traditional diagnosis: When in a network-free environment, intelligent diagnosis cannot be used. At this time, traditional 
diagnosis can be selected, and the vehicle and vehicle models can be manually selected for vehicle fault detection. 
Diagnostic record: record the local vehicle maintenance record, you can check the vehicle record that the machine has diagnosed, and you can quickly enter the system of the vehicle for detection when it is diagnosed again; 
Software upgrade: support one-click upgrade of operating system, client, model software and firmware; 
Personal Center: Personal data center, including my report, my connector, diagnostic connector connection management, connector activation, firmware repair, personal information, modify user password, settings, etc.
Launch X431 V+ HD3 Package includes:
1pc x X-431 V+(V3.0) host
1pc x PAD4HD- Type II OBD-9 X431 diagnostic connector
1pc x X-431 HD_III_VCI diagnostic kit Business Edition (RM08)
1pc x X431 PAD IV HD-BENZ-14 / Mercedes 14PIN diagnostic connector
1pc x X431 PAD IV HD-CAT-9 / Carter 9PIN diagnostic connector
1pc x X431 PAD IV HD-HYUNDAI-16 / Modern truck 16PIN diagnostic connector
1pc x X431 PAD IV HD-IVECO-30 / In Victoria Ho 30PIN diagnostic connector
1pc x X431 PAD IV HD-IVECO-38 / In Victoria Ho 38PIN diagnostic connector
1pc x X431 PAD IV HD-MAN-12 / Man 12PIN diagnostic connector
1pc x X431 PAD IV HD-MAN-37 / Man 37PIN diagnostic connector
1pc x X431 PAD IV HD-MITSUBISHI-12 + 16 / Fuso 12 + 16PIN diagnostic connector
1pc x X431 PAD IV HD-OBD-16 diagnostic connector
1pc x X431 PAD IV HD-OBD-6 diagnostic connector
1pc x X431 PAD IV HD-RENAULT-12 / Renault 12PIN diagnostic connector
1pc x X431 PAD IV HD-VOLVO-8 / Volvo 8PIN diagnostic connector
1pc x Heavy truck diagnostic X431 PAD4HD mainline
1pc x LIGHTER
1pc x CLIPPER
1pc x Adapter, 5V/2A, American Standard (Lenovo plate supporting)
1pc x X431 PIN envelope
1pc x X-431 V+ HD3 English quick start
1pc x X431, PRO3S+, B, USB, Micro, USB
1pc x Clipper fuse 5*20mm
1pc x Lighter fuse 6*30mm
1pc x X-431 Power supply
Support purchase software for 12v cars in the shopping mall!