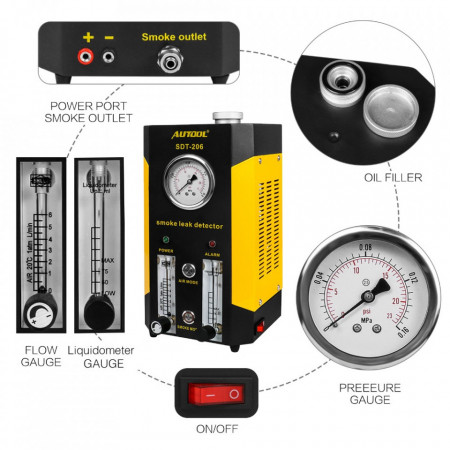 Tester auto Autool SDT-206 Detectie scurgere fum turisme si camioane
Descriere
Acest produs poate fi utilizat cu ulei pentru bebeluși sau glicerină pentru îngrijirea pielii sau cu glicerină industrială, uleiul de fum selectat trebuie să fie lichid pur, non-apos și în stare fluidă. Nu folosiți ulei de fum vâscos care poate deteriora cu ușurință echipamentul. Folosiți o sticlă gradata atunci când adăugați ulei in aparat. Dacă este supraîncărcat, deschideți evacuarea uleiului pentru a scurge o cantitate corespunzătoare de ulei . Mai jos aveti un film video de prezentare:

ABOUT SMOKE OIL
This product can be used with Baby oil or skin care glycerin or industrial glycerinthe selected smoke oil shall be pure non-aqueous liquid and in a fluid state. Do not use viscous smoke oil which can easily damage the equipment. Use a measuring bottle with pointed tip when adding smoke oil. If it is overfilled, open the oil outlet to drain an appropriate amount of smoke oil.


Tips for maintenance:
With longtime high temperature, the smoke and oil will oxidize and deteriorate. It will infect the service life of smoke generated part, so please change smoke and oil regularly.
1.Before filling new oil, please pour out the remaining oil in the detector.
2.When the smoke output has water drops, please replace with new oil.
3.Liquid paraffin and baby oil are OK to make smoke!
4.Please fill new oil with equipped oil bottle.
Description:
The New Generation AUTOOL SDT-206 Smoke Leak Detector is designed for pipeline leak detection in automotive air intake system, fuel system and cooling system.
 
Features:
It is suitable for all family cars, motorcycles, snowmobiles, off-road vehicles, ATVs, light trucks and speedboats.
It is the great partner of car diagnose tool. It works with the car diagnose tool to accurately locate the physical fault of the car and quickly detect the hidden fault of the car engine.
Notes:
1.SDT-206 is for all pipe systems include EVAP.
2.Please do leak detection away from smoke-sensitive parts.
3.Do not run the detector over 5 minutes. It needs interval rest.
4.The detector has protector. If it exceeds working limit, it will power off automatically. In this condition, please operate it later.
How to operate?
1.Open the engine cover, and hang the detector in the cover.
2.Disconnect the pipe that needs to be connected with detector. If the pipe needs to be disconnected in the middle. Please secure the other side with a rubber stopple.
3.Secure this side with proper taper stopple/pipe, and connect it with smoke output tube.
4.Connect detector with DC12V battery: red with positive, black with negative. Do not connect in a contrary way.
5.Turn on the power switch, and detector starts to work.
6.Adjust the flow gauge. Control the input smoke value and pressure to make sure the pipe system can afford the pressure.
7.In about 3 minutes, the pipe will be filled with smoke.
8.Observe the floating ball in flow gauge. If the floating ball stays still in the bottom, the pipe is sealed with. If the floating ball is arising or bouncing, the pipe is leaking.
9.Position the leak points by floating ball. If the bounce arises highly, the leakage is serious.
10.Check the leak points. Please use head lamp if necessary.
11.After leak detection, please connect well the wires and pipe.
Cautions:
1.When you use this detector the first time, please fill 20-30ml oil, not beyond this range.
2.New oil can be filled with only when the smoke is light,and it can't be filled over 15ml every time.
3.Before filling new oil, please pour out the remaining oil in the detector.
4.Please replace the detector oil regularly.
 
EVAPORATIVE EMISSION CONTROL SYSTEM (EVAP) DETECTION METHOD
The American cars produced after 1996 are equipped with EVAP service ports; The EVAP service ports are usually located in the engine compartment for most US cars but elsewhere for some special cars. Conventional EVAP detection method: Open the plastic cover of the EVAP service port, then remove the one-way valve clockwise with a valve wrench and install the EVAP service port adapter to import the smoke into the EVAP system for leak detection.
 
JUDGE ON THE LEAK STATUS
If the SDT-202 and SDT-206 models with pressure gauges are equipped, turn off smoke generator switch without opening the smoke outlet, then observe and confirm the pressure gauge reading to compare the pressure gauge reading in the detection process. If the pressure gauge reading continues to rise and maintain, it indicates that there is no leak point in the system. If the pressure gauge reading drops, it indicates that there is a leak point in the system. If the pressure gauge shows zero, it indicates the size of the leak point exceeds 0.3 mm
 
Information:
Power: DC 12V, vehicle battery
Smoke output value: 6l/min
Built-in air supply
Controllable flow value
Fit for:cars,trucks ,vans,motorcycle
 
Vehicle voltage
The machine just support 12V cars,if you want to test 24V trucks,do not plug it in your truck directly.Please charge it via a independent battery.
 
 
Package Included:
1x Main Unit
1x Hook (with hand-tighten nuts)
1x Smoke output tube
1x Power cable
1x Rubber stopples (with serial specification)
1x Taper stopple
1x Taper pipe
1x User manual